Compare Dallas Light Companies
The Original Dallas Light Company
Many people consider Oncor Electric to be the Light company of Dallas. Oncor (formerly part of TXU Energy) is the poles and wires company that maintains the distribution infrastructure that keeps the lights on in Dallas, Fort Worth and most of North Texas.
At one point TXU energy was the "Light Company" for the Dallas Fort Worth area. TXU was a vertically aligned Electricity Utility. (They owned Generation, Transmission and Retail Sales) In 1999 Texas deregulated the electricity market, in effect separating TXU energy into three operating groups with "walls" between each operating unit: TXU retail energy, TXU Distribution and TXU Power (Generation). In 2007 TXU was purchased in the largest (at the time) private equity buyout and re-named Energy Future Holdings (EFH). TXU Power was renamed Luminant Energy, TXU Distribution was re-named Oncor and TXU Energy (Retail) retained its name. In 2014 EFH saddled with debt due to a bad bet on coal in the age of natural gas fracking went bankrupt, eventually emerged as Texas Competitive Electric Holdings and in 2016 changed its name to Vistra Energy.
Deregulation In Dallas
Deregulation changed The way we buy Electricity In Dallas. The advent of deregulation, allowed customers to comparison shop for their electricity from any licensed supplier. Within a matter of years dozens of competitive suppliers and providers offered rates, plans and programs that offered savings, incentives and value add products to entice customers. By 2018 roughly 96% of Texans had switched providers at least once.
Who Supplies the actual Energy to The Dallas Area?
Dallas gets its power from the ERCOT grid, which manages and balances the daily demands of energy throughout the state. In effect energy is transmitted throughout the grid - mixing energy from Nuclear, Natural Gas, Coal, Hydro, Wind and Solar and Biomass. The major power plants supplying the Dallas Fort Worth are: Comanche Peak Nuclear Power Plant, Midlothian, and Forney Energy Facilities, as well as numerous wind farms, and natural gas power plants in the North Texas Area.
Dallas Fort Worth Power Plants Map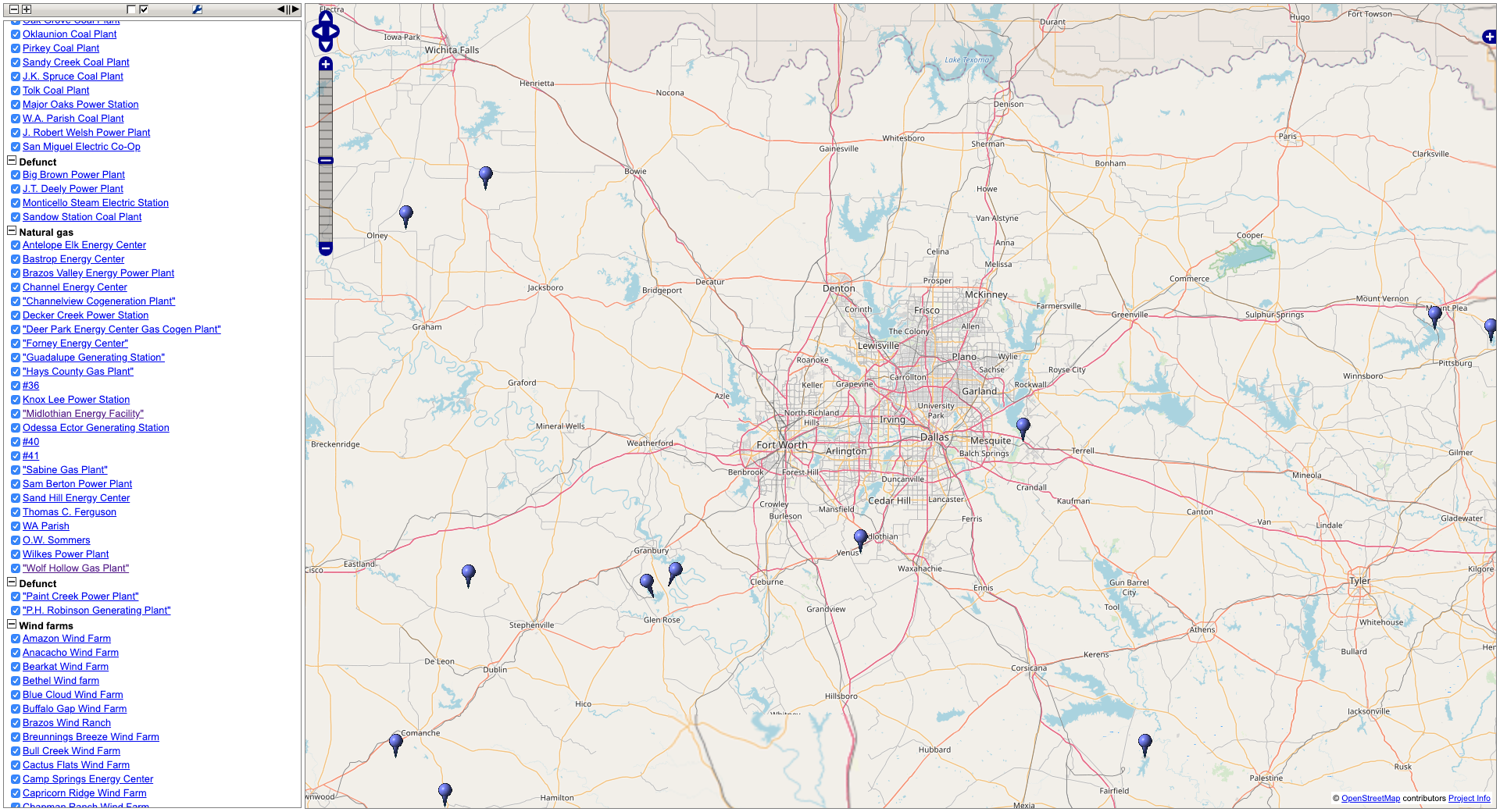 What happens when your lights go out?
With the advent of Smart Meters, the Dallas / Fort Worth area is wired for virtually instant information when there are power outages. You can access the smart grid via the Oncor outage map. We recommend that you use the "My Oncor Alerts", which will send alerts to your smart phone when the power goes out, and provides updates when service will be re-connected. If your power has been cut due to non-payment, it can be re-connected within a few hours, by contacting your Dallas light company.
Oncor Outage Map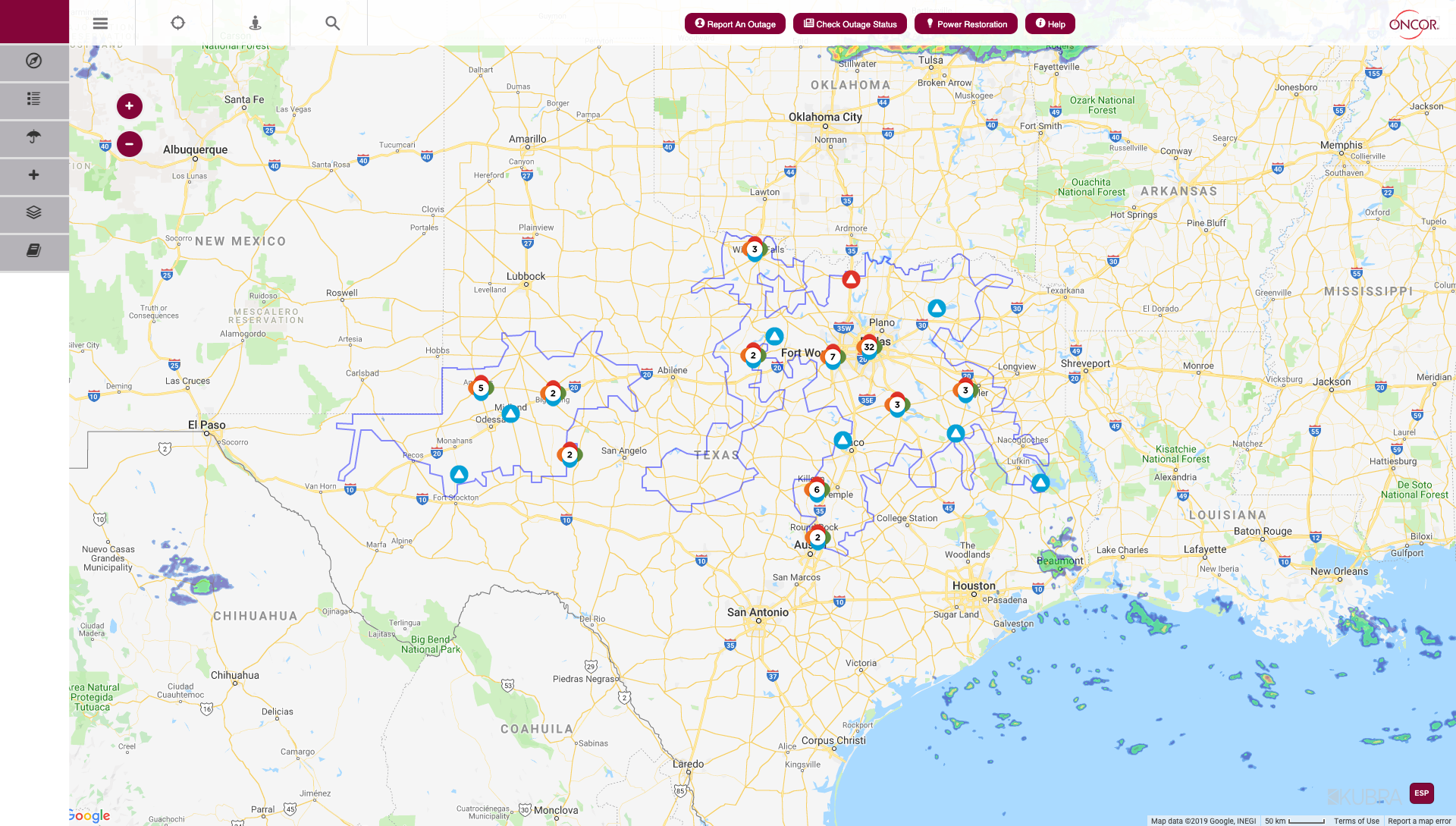 Top 10 Dallas Light Company Rates
| Company Name | Plan Name | Electricity Rate |
| --- | --- | --- |
| Chariot Energy | GridEdge 36 | 10.3¢ |
| Chariot Energy | GridEdge 18 | 10.5¢ |
| Chariot Energy | GridEdge 24 | 10.5¢ |
| Chariot Energy | GridEdge 12 | 11.0¢ |
| Gexa Energy | Gexa Eco Saver Plus 12 | 11.1¢ |
| Gexa Energy | Gexa Eco Saver Plus 24 | 11.1¢ |
| 4Change Energy | Maxx Saver Select 24 | 11.1¢ |
| 4Change Energy | Maxx Saver Select 12 | 11.1¢ |
| Frontier Utilities | Frontier Saver Plus 12 | 11.1¢ |
| Frontier Utilities | Frontier Saver Plus 24 | 11.1¢ |
Dallas Light Company Shopping Guide
Dallas light companies with no deposit
| Company Name | Plan Name | Electricity Rate |
| --- | --- | --- |
| Payless Power | Rate Lock 6 | 18.2¢ |
| Payless Power | Rate Lock 12 | 18.3¢ |
Dallas Historical Light Company Rates